USS Monitor
John Ericsson 1862
When news reached the U.S. Navy in late 1861 that the Confederate Navy was working to convert the former USS Merrimack into an ironclad warship, an emergency order went out for the design of a Union ironclad. John Ericsson's model of "a cheesebox on a raft" was selected, and on October 4, 1861, Continental Iron Works and DeLamater Iron Works, both of New York, were contracted to build the Union ironclad.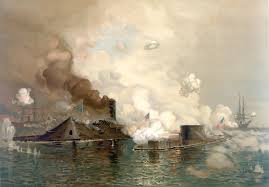 Under Ericsson's direction, the USS Monitor was launched in Brooklyn and began preparations for combat on January 30, 1862, just 118 days after the Navy's order was submitted.
On March 6, the process of towing Monitor down the Atlantic Coast to Chesapeake Bay began. Late on March 8, the former Merrimack, now rebuilt into the ironclad CSS Virginia, attacked the Union squadron blockading Hampton Roads and sank USS Cumberland and USS Congress. At dusk, the Virginia returned to port, intending to finish the job the next morning. But that night the Monitor arrived, and on March 9 the two ironclads fought their famous battle to a draw, leaving the Union blockade in place.
The cost of the one extra day it took for Monitor to arrive was high, but two days would have cost far more. Had Ericcson been able to eliminate one more day on his critical path, the lives lost on the two Union warships might have been saved. Conversely, had he not so brilliantly shortened the project schedule as much as he did, the blockade would probably have been broken and the Union might have lost the war.